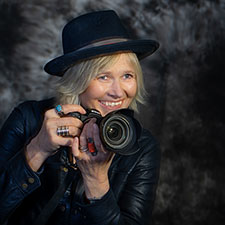 Dorte Verner's photography focuses on people that have little voice and never make the news. She captures their beauty and strength through intimate moments. Dorte's portfolio centers on environmental portraits, with images inspired by the life and livelihood of people living in extreme situations and in remote geographical locations. These include rural areas in Africa, such as Omo Valley, the Arabian Deserts, Latin America's semi-arid areas and the Amazon, and Asia's mountains and plains. Many of the people living in these areas are affected by climate change, globalization, conflict, and other changes, which they have contributed little to.
Dorte was born in Denmark and lives in Washington, D.C., USA. She is a Photographer and Development Practitioner, holds a PhD in economics, and is a Fellow in the Explorers Club.
Dorte has received numerous awards for her photogpahs, including Nikon's Grand Prize and Most Popular Entry, winner of IPA, and Prix de la Photographie, Paris. Her work is published in books, magazines, and the news, e.g. GEO, Vanity Fair, The Times, and the Sun. Her photographs are featured in solo and group exhibits, and are on permanent display in, e.g. The Nikon Museum and International Organizations and many cities around the world, such as in Kampala, Nairobi, Nouakchott, Paris, and Washington D.C.
Dorte Verner can be reached by phone at +1-202-247-8086.
Click on highlighted text to go to respective Websites:
Recent Awards:
Exhibitions:
Africa: A Continent on the Move, an exhit with Sadao Watanabe and Dorte Venrer at Fujifilm, tokyo, Japan. Aug. 22-Sep 15, 2019. I has been shown in Yokohama. It will be shown in Nov. and Dec. 2019 in Sapporo and Osaka.

(ongoing)

People and Places - Global Human Photography,

an exhibt by Dorte Verner at the Lapop Gallery in Washington D.C. in decmber, 2019. (ongoing)

People and Places - Global Human Photography, a solo exhibt by Dorte Verner at the Air France Lounge, JFK Airport, New York. Jul. 1- Oct. 31, 2019.
Traversée mauritanienne,

a solo exhibt by Dorte Verner in

the National Museum of Mauritania.

Mar. 13, 2019 - (ongoing)

The Sahel, Resilient People in Burkina Faso, Chad, Mauritania, and Niger. A solo exhibt by Dorte Verner in The World Bank, Washington D.C., USA. Mar. 19, 2018 - (ongoing).
Without Borders, a solo exhibit by Dorte Verner in Henry Luce III Center for Arts and Religion, Washington D.C., USA. Sep. 17 - Jan. 30, 2018.
The Silk Road

-

Photography Biennale of Tianshui, China. A multi-artist exhibit and Dorte Verner exhibits 12 photographs from Iran, Jordan, Oman, and Syria. Jun. 20 - Oct. 31, 2018.
Annual IPS Exhibit, a multi-artist show in The International Monetary Fund, Washington D.C., USA. Jun. 10 -Jul. 11, 2019.
International Photo Society Annual Photo Exhibition. A multi-artist show at the Preston Lounge, Washington D.C., USA. Sep. 21- Oct. 31, 2018.
The Wonder People, a solo Exhibit by Dorte Verner at Photoworks Gallery, Washington D.C., USA. Jan. 19 - Feb. 27 2018. The Washington Post and The Washington City Paper reviewed the show (click on link to read reviews). The Wonder People exhibit is a series of photographs of children and adults caught in the global refugee crisis. Dorte Verner captured the exhibited photographs of people caught in 22 countries and originally from Afghanistan, Burundi, Central African Republic, Democratic Republic of Congo, Iraq, Kurdistan, Myanmar, Rwanda, Somalia, South Sudan, Syria and more over the past three years. The photographs are a rare look into the life of "The Wonder People" around the globe.
Recent Interviews, Movies, other:
Recent Publications:
GEO Magazine, Moken Fisherman on

two pages

; October 2018.
Air France Magaine, October 2019,
Phoneix Magazine, Cover; Fall 2018.
Awards 2017:
Exhibitions 2017:
Greece: Blank Wall Gallery: People and Winter exhibit. November 2017.
China:
India:
Czech Republic, Prague: September 2017 at Nikon Photo Gallery. http://www.nikonphotogallery.cz/
The United Kingdom, London: December 2017 at Center of Excellence.
France, Paris: November 2017 at Salon de la Photo. https://en.lesalondelaphoto.com/
Japan:

Nikon Photo Contest 2016-2017 Photo Exhibition: DAIKANYAMA T-SITE GARDEN GALLERY in Tokyo. July 29 to August 2, 2017. http://real.tsite.jp/daikanyama/english/
Nikon Plaza Shinjuku, THE GALLERY through October 2017.
Nikon Museum, Shinagawa, Tokyo.
Nikon President's Office, Nikon, Tokyo.

Italy: #Connect4Climate two photos are exhibited in Piazza Maggiore Bologna leading up to the G7. https://t.co/49t6NLu2bU
The United States

The World Bank, Washington D.C., USA: Large solo exhibit: Faces of Resilience, June 20 to July 7, 2017, James D. Wolfensohn Atrium and from July 7 onwards on the floor of the Vice President of Africa. This photojournalism exhibit features 25 large photographs Dorte made in Uganda, Kenya and Niger in early 2017—three countries hosting a large number of refugees and IDPs with very limited resources. the exhibit documents, through photographs and narratives, the resilience and challenges faced by refugees and host communities.
The World Bank, Washington D.C., USA. International Exhibit, ongoing.
The International Monetary Fund, June and July 2014. IPS Exhibit. International exhibit with six photographs by Dorte from Cuba, Iran, Myanmar, and Thailand.
People in a Changing Climate, The World Bank, Permanent exhibition

(ongoing).
Awards and exhibitions 2016:
Best Photo exhibited in Metropolitan Washington D.C., USA by selected by the City Paper.
International Photography Award (IPA) winner: series Indigenous Peoples Under Climate and Other Treats in IPA's 2016 social course

category.

Winner of International Photographic Society 2016 competition with Snow Day. Exhibit in IMF, June 2016.
Shutterbug published photo of Dao Peoples in Vietnam (April, 2016; page 16).
Exhibits: Social Implications of Climate Change at Photo Works, Washington d.c., USA (March) and at the IMF (June and October).
Awards and exhibitions 2015 & 2014
Photographer of the Year award the International Photographic society, 2015.
Honorable Mention for Cuban Joy, Santa Fe Workshops, 2015.
Honorable Mention for Cuban Joy, International Photography Award (IPA), 2015.
Photographer of the Year 2015 International Photography society, Washington D.C., USA.
Photographer of the Year 2014, International Photography society, Washington D.C., USA.
Dorte's work wass exhibited in: The Louvre, Paris ( Koro Boys); Center for Digital Imaging Arts, the International Monetary Fund, Tryst, the World Bank, the Goethe Institute, Photo Works, and the Foto Central at FotoWeekDC.
Selected Books and Other Publications:
In 2012, Dorte's book Arab People in Transition: Climatic and Cultural Change won third place in FotoWeekDC International Award Competition in the Photojournalism category.
Dorte published a second photo book about Indigenous peoples in Omo Valley, Ethiopia and climate change: People of the Omo Valley Under Climate and Other Pressures.
Dorte's photos are published in magazines such as in Shutterbug, Environment Matters and on websites e.g. the World Bank and IFPRI's Arab Spatial. Dorte's photographs are displayed on covers and inside books:
Dorte served as a judge in numerous Photo Contests, including Nikon Movie competion 2018, USA; Picture Inequality a Global Photo Contest by the World Bank and submissions from 71 countries.